Congratulations to Scott Nicholson on the release of Soft Robots (MIM*X book 1) a new dystopian/science fiction series.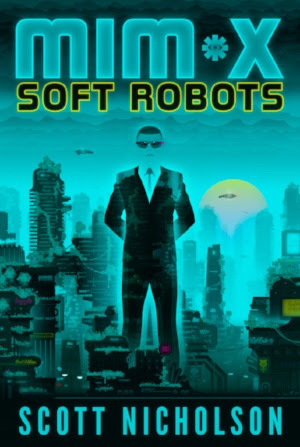 Soft Robots: A.I. Dystopian Thriller (MIM*X Book 1)
by Scott Nicholson
February 16, 2018
389 pages
After bloody civil unrest, environmental disaster, and the Third World War, benevolent corporations have replaced governments and delivered peace, prosperity, and equality to a grateful human race.

Max Carmichael is an agent in the Cryptics Bureau, whose duty is to protect the corporations that govern the world. But when he's given a secret mission to find a mysterious woman linked to acts of sabotage, he discovers she was part of a MIM*X experiment that links human brains to artificial intelligence.

Evan Lord, the enigmatic and powerful CEO of the MIM*X corporation, wants to shape society into a harmonious blend of humans and robots using neural implants. Carmichael soon realizes his involvement is no accident, and he's forced to choose between duty and morality as rogue outliers plot to take down MIM*X.

And the woman he is ordered to destroy causes him to question not only his own existence, but that of the entire global society as well.
About the author:


website

-

FB

-

twitter

-

blog
Author Scott Nicholson has written 15 thrillers, 60 short stories, four comics series, and six screenplays. He lives in the Appalachian Mountains of North Carolina, where he tends an organic garden, successfully eludes stalkers, and generally lives the dream.